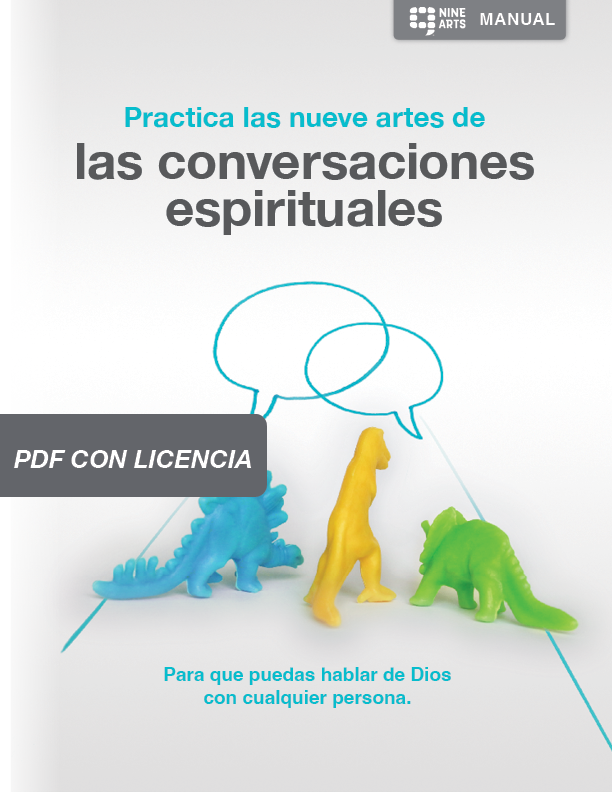 Manual de las nueve artes PDF con licencia (Spanish Edition)
Regular price $99.00 Sale
Practica las nueve artes de las conversaciones espirituales: Manual de las nueve artes PDF con licencia (Spanish Edition)
With a 9 Arts Primer Licensed PDF, you will receive the PDF of the 9 Arts Primer with a license to print what your church, organization, or group needs, as you need it. You have maximum flexibility!
9 Sesiones + Intro
¿Cómo puede tener conversaciones acerca de Dios de manera natural con las personas que lo rodean?

Usando el manual Practica las 9 artes de las conversaciones espirituales. Este manual, además de enseñarle las habilidades necesarias para tener conversaciones espirituales significativas, lo ayudará a ponerlas en práctica y dominarlas.
Como complemento del libro The 9 Arts of Spiritual Conversations [Las 9 artes de las conversaciones espirituales] (disponible por separado en inglés), esta guía de práctica cubre las nueve habilidades que reflejan la interacción de Jesús con las personas que lo rodeaban. Incluye una sesión para cada una de las 9 artes y una sesión introductoria que lo ayudará a empezar. En sólo diez semanas puede comenzar a experimentar la importancia de observar, orar, escuchar, hacer preguntas, amar, ser amable, ser motivador, servir juntos y compartir para establecer conexiones más profundas y entablar conversaciones que transforman vidas.
El Manual de las 9 artes está diseñado como una guía práctica de discusión y aplicación para cada miembro de un grupo pequeño, de una clase de escuela dominical o de un grupo de discipulado. También puede completar este manual por su cuenta, llevando un diario de sus respuestas a las preguntas y poniendo en práctica lo que aprende cada semana.
¿Está interesado en comprar el Manual de las 9 artes para su uso personal? La versión electrónica (eBook) de Las 9 artes en español está disponible en Amazon como Spanish 9 Arts eBook.