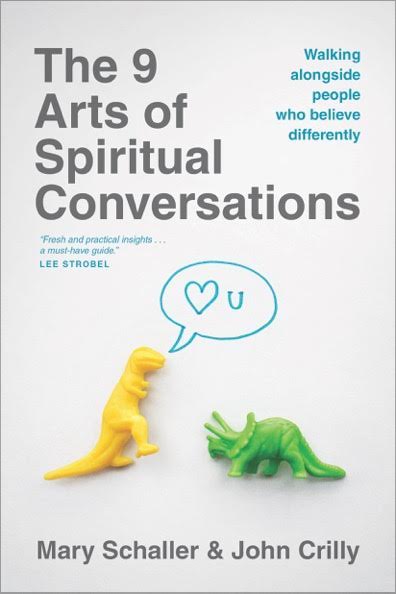 The 9 Arts of Spiritual Conversations (book)
Regular price $15.99 Sale
The 9 Arts of Spiritual Conversations:
Walking Alongside People Who Believe Differently
Authors: Mary Schaller and John Crilly
Published by Tyndale House
If you've ever felt uncomfortable talking about your faith with people who believe differently—you're not alone. But it is possible to engage in open and honest spiritual conversations . . . without awkwardness!
When you look at the life and ministry of Jesus, you'll see nine different ways that he engaged with people. These practices, or "arts," are skills you can learn that will naturally deepen your connections with others. Spiritual conversations may then become an everyday reality, and you'll have a front row seat as God changes people's lives. 
Want to put the 9 Arts into practice? Check out the 9 Arts Primer or Complete Guide. 
For your group, organization, or church, check out the 9 Arts 4-Session Packs or the 9 Arts Complete Guide Licensed PDF, and you can print what you need, as you need it.

_________________________________________________________________

Volume Discounts Available: Use coupon code at checkout. 
| | | |
| --- | --- | --- |
| Books | Discount | Coupon Code |
| 10-24 | 15% | 9ARTS15 |
| 25-49 | 20% | 9ARTS20 |
| 50-99 | 25% | 9ARTS25 |
| 100-249 | 30% | 9ARTS30 |
| 250+ | 35% | 9ARTS35 |