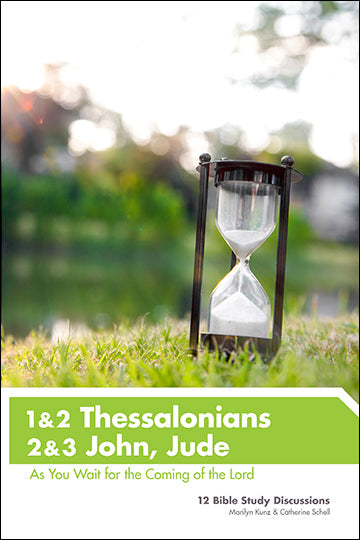 1 & 2 Thessalonians, 2 & 3 John, Jude [PDF]
--
1 & 2 Thessalonians, 2 & 3 John, Jude: As You Wait for the Coming of the Lord
[PDF Download]
Purchase the quantity you need for yourself and/or others, and you may distribute that number of PDFs to those in your group.

--
If we believe that Jesus could return at any moment, how should we live? In the first century A.D., Paul, John, and Jude wrote short letters to Christians who needed guidance on specific, practical topics. Their letters give warnings, counsel, and encouragement to live in readiness for an event that could come even in the next moment—the physical return of Jesus. To get the most out of this study, it is helpful to be familiar with the content of Mark, Acts, and Genesis. The principles and guidance in this study will help you understand how to live and face a variety of situations . . . while also anticipating the coming of the Lord.
12 Discussions
Authors: Marilyn Kunz & Catherine Schell
--
This is a downloadable electronic file (PDF) and requires Adobe Acrobat to open.
_________________________________________________________________


Volume Discounts Available: Use coupon code at checkout. 
| | | |
| --- | --- | --- |
| PDF Guides | Discount | Coupon Code |
| 10-24 | 15% | GUIDES15 |
| 25-49 | 20% | GUIDES20 |
| 50-99 | 25% | GUIDES25 |
| 100-249 | 30% | GUIDES30 |
| 250+ | 35% | GUIDES35 |