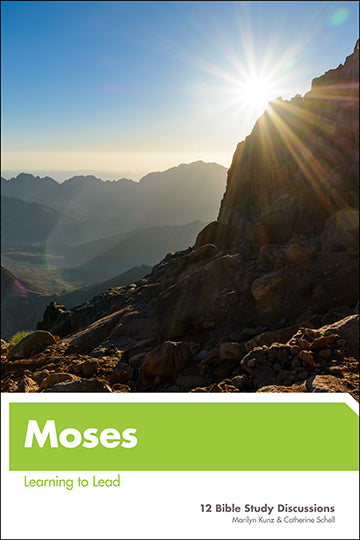 Moses
Regular price $11.99 Sale
View sample
--
Moses: Learning to Lead
What can you learn about leadership from Moses' life? What can you learn about God? God gave Moses a monumental task–the deliverance of an entire nation. In Moses' epic story it becomes clear that God is not only concerned about this all-important assignment, but that he also cares deeply for the leader he has called to serve him. Moses' character is tested and developed through overwhelming challenges, and God's mission is accomplished through him. Moses: Learning to Lead is a character study that reveals the relationship between faith in God and leadership. This study includes sections of Exodus, Numbers, and Deuteronomy, and is recommended for Christians who are familiar with the book of Genesis. It is rich with principles that apply in every area of influence, no matter how large or small.
12 discussions
Author: Marilyn Kunz & Catherine Schell
_________________________________________________________________

Group Guidelines Cards:  Click here to add to your order. (Free!)

Volume Discounts Available: Use coupon code at checkout. 
| | | |
| --- | --- | --- |
| Books | Discount | Coupon Code |
| 10-24 | 15% | GUIDES15 |
| 25-49 | 20% | GUIDES20 |
| 50-99 | 25% | GUIDES25 |
| 100-249 | 30% | GUIDES30 |
| 250+ | 35% | GUIDES35 |