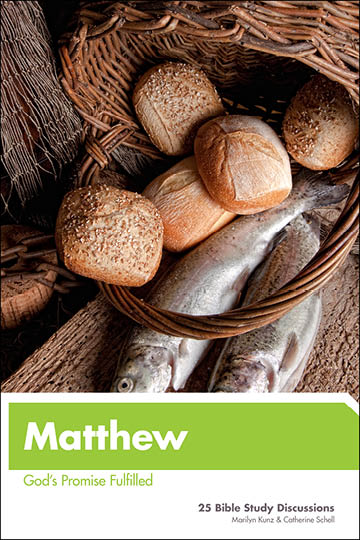 Matthew
Regular price $13.99 Sale
View sample
--
Matthew: God's Promise Fulfilled
How does Jesus fulfill God's promise of a king? Prophecies in the Hebrew Scriptures created expectations for a king who would free the Jewish people from oppressors. When Jesus came on the scene in Israel, his miracles and teaching drew the attention of great crowds, but his actions led to strong opposition from leaders. Matthew, an apostle and primary witness of Jesus' ministry, presents the most comprehensive collection of Jesus' teachings. He also permeates his account with prophecies from the Old Testament. Matthew: God's Promise Fulfilled will help you unpack and apply Jesus' teachings and uncover the evidence that he is the king God promised to send.
25 discussions
Author: Marilyn Kunz & Catherine Schell
_________________________________________________________________

Group Guidelines Cards:  Click here to add to your order. (Free!)

Volume Discounts Available: Use coupon code at checkout. 
| | | |
| --- | --- | --- |
| Books | Discount | Coupon Code |
| 10-24 | 15% | GUIDES15 |
| 25-49 | 20% | GUIDES20 |
| 50-99 | 25% | GUIDES25 |
| 100-249 | 30% | GUIDES30 |
| 250+ | 35% | GUIDES35 |