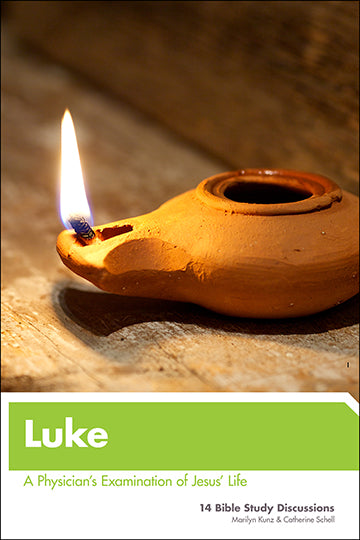 Luke
Regular price $11.99 Sale
View sample
--
Luke: A Physician's Examination of Jesus' Life
What are the facts of Jesus' life, death, and resurrection? In compiling his account of Jesus' life, Luke, a physician by trade, approaches the task as an investigative journalist would. Talking directly with eyewitnesses and establishing the precise historical context, Luke writes with a clear purpose: "so that you may know the certainty of the things you have been taught." This study is a fast-paced survey, with each discussion covering two chapters. When you are familiar with the Gospel of Mark, Luke provides another excellent opportunity to examine the life of Jesus. Each discussion concludes with a short recap called "Choices," which brings heart issues of the study into focus so you can make meaningful applications in your life today.
14 discussions
Author: Marilyn Kunz & Catherine Schell
_________________________________________________________________

Group Guidelines Cards:  Click here to add to your order. (Free!)

Volume Discounts Available: Use coupon code at checkout. 
| | | |
| --- | --- | --- |
| Books | Discount | Coupon Code |
| 10-24 | 15% | GUIDES15 |
| 25-49 | 20% | GUIDES20 |
| 50-99 | 25% | GUIDES25 |
| 100-249 | 30% | GUIDES30 |
| 250+ | 35% | GUIDES35 |