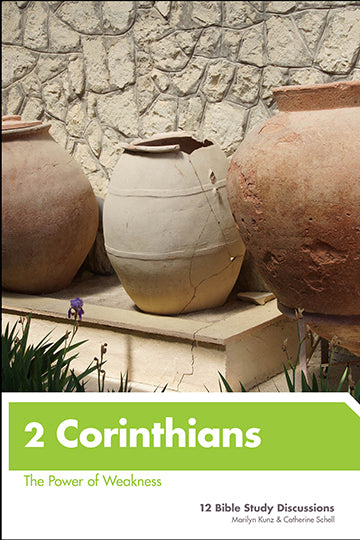 2 Corinthians
Regular price $11.99 Sale
View sample
--
2 Corinthians: The Power of Weakness
How do you deal with calamities, struggling relationships, and weakness? Second Corinthians is the most personal of Paul's letters to the churches. As he continues to confront, disciple, and encourage these Christians, he pours out his struggles with suffering and weakness along with his passion for the gospel message–a precious treasure held in a simple jar of clay. This study will give you perspective and guidance for enduring through distressing circumstances, for giving in a way that brings joy and thanksgiving, and for fully engaging in God's purpose for your life. Having the background of 1 Corinthians is helpful in studying 2 Corinthians: The Power of Weakness.
12 discussions
Author: Marilyn Kunz & Catherine Schell
_________________________________________________________________

Group Guidelines Cards:  Click here to add to your order. (Free!)

Volume Discounts Available: Use coupon code at checkout. 
| | | |
| --- | --- | --- |
| Books | Discount | Coupon Code |
| 10-24 | 15% | GUIDES15 |
| 25-49 | 20% | GUIDES20 |
| 50-99 | 25% | GUIDES25 |
| 100-249 | 30% | GUIDES30 |
| 250+ | 35% | GUIDES35 |