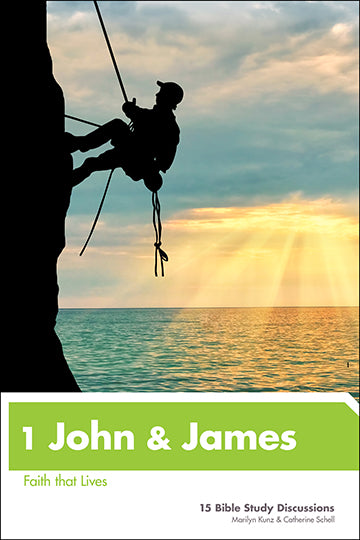 1 John & James
Regular price $11.99 Sale
View sample
--
1 John & James: Faith that Lives
How can you be sure your faith is real? In the 1st century, the apostle John wrote a letter "to you who believe in the name of the Son of God," with this purpose: "so that you may know that you have eternal life." James, a key leader of the early church in Jerusalem, was passionate for his fellow Christians to have a living and active faith that could endure through adversity. 1 John & James: Faith that Lives brings the letters of these two early church leaders together, providing a well-rounded understanding of faith. This study will help you grow in your assurance of God's work in you–both in what you believe and in how you live.
15 discussions
Author: Marilyn Kunz & Catherine Schell
_________________________________________________________________

Group Guidelines Cards:  Click here to add to your order. (Free!)

Volume Discounts Available: Use coupon code at checkout. 
| | | |
| --- | --- | --- |
| Books | Discount | Coupon Code |
| 10-24 | 15% | GUIDES15 |
| 25-49 | 20% | GUIDES20 |
| 50-99 | 25% | GUIDES25 |
| 100-249 | 30% | GUIDES30 |
| 250+ | 35% | GUIDES35 |