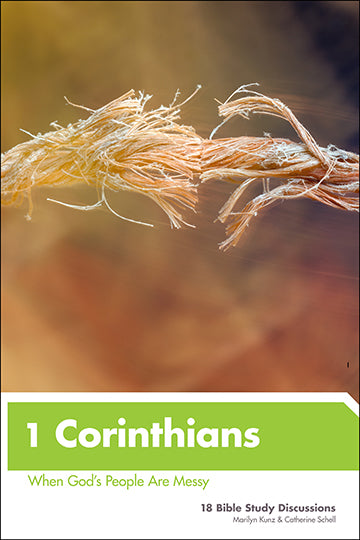 1 Corinthians
Regular price $11.99 Sale
View sample
--
1 Corinthians: When God's People Are Messy
What do you do when God's people get off track? Of all Paul's letters, this seems to be the most difficult to write. He has received disturbing news–-the church in Corinth is in trouble, damaged by divisions, immorality, self-indulgence, greed, immaturity, and spiritual pride. These Christians also have questions regarding how to meet and worship together. The apostle Paul's deep concern is evident as he boldly sorts through the mess to help them get to the grace and unity that God intended for his church. After experiencing several New Testament books including Mark, Acts, and Romans, groups studying 1 Corinthians will discover timeless principles for confronting and solving problems and for meeting together as a church.
18 discussions
Authors: Marilyn Kunz & Catherine Schell
 _________________________________________________________________

Group Guidelines Cards:  Click here to add to your order. (Free!)
Volume Discounts Available: Use coupon code at checkout. 
| | | |
| --- | --- | --- |
| Books | Discount | Coupon Code |
| 10-24 | 15% | GUIDES15 |
| 25-49 | 20% | GUIDES20 |
| 50-99 | 25% | GUIDES25 |
| 100-249 | 30% | GUIDES30 |
| 250+ | 35% | GUIDES35 |