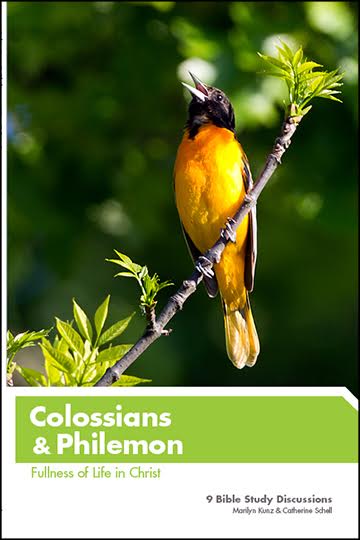 Colossians & Philemon
View Sample
--
Colossians & Philemon: Fullness of Life in Christ
What do we need to be spiritually mature and complete? Was there some kind of secret knowledge or religious ritual that the church in Colossae was missing? The apostle Paul writes to these Christians not merely to protect them from false teaching, but to fill them with assurance that they have everything they need in Jesus Christ--"in whom are hidden all the treasures of wisdom and knowledge"! The letter to the Colossians was likely accompanied by the brief letter to Philemon. Both were written to give clear, practical instruction and encouragement for living out the Christian faith. In these letters Paul also inspires us to discover how a relationship with Jesus fills every area of life.
9 discussions
Authors: Marilyn Kunz & Catherine Schell
_________________________________________________________________

Group Guidelines Cards:  Click here to add to your order. (Free!)

Volume Discounts Available: Use coupon code at checkout. 
| | | |
| --- | --- | --- |
| Books | Discount | Coupon Code |
| 10-24 | 15% | GUIDES15 |
| 25-49 | 20% | GUIDES20 |
| 50-99 | 25% | GUIDES25 |
| 100-249 | 30% | GUIDES30 |
| 250+ | 35% | GUIDES35 |