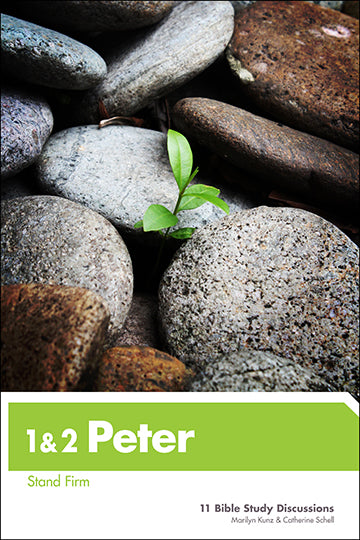 1&2 Peter
Regular price $11.99 Sale
View sample
--
1 & 2 Peter: Stand Firm
How do you stand firm when things get tough? First and Second Peter are written to Christians who have already experienced hardship as a result of their faith. Knowing that more challenges are coming–both from outside and from within the church–the apostle Peter sends these letters to strengthen and prepare his fellow believers (and us!) to know how to live, stand firm, and grow in grace, truth, and the knowledge of the Lord Jesus Christ. To get the most out of this study, it is helpful to be familiar with the content of Mark, Acts, Genesis, and Romans. With that foundation, 1 & 2 Peter will lead to rich discussions and powerful applications for your life.
11 discussions
Author: Marilyn Kunz & Catherine Schell
_________________________________________________________________

Group Guidelines Cards:  Click here to add to your order. (Free!)

Volume Discounts Available: Use coupon code at checkout. 
| | | |
| --- | --- | --- |
| Books | Discount | Coupon Code |
| 10-24 | 15% | GUIDES15 |
| 25-49 | 20% | GUIDES20 |
| 50-99 | 25% | GUIDES25 |
| 100-249 | 30% | GUIDES30 |
| 250+ | 35% | GUIDES35 |